Pump Up Your Book is pleased to bring you Elizabeth Woodrum's

Maisy and the Missing Mice

virtual book tour January 6 – 31!

ABOUT MAISY AND THE MISSING MICE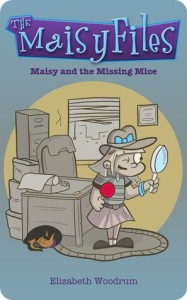 Title
: Maisy and the Missing Mice
Genre:
Children's Mystery Fiction
Author
: Elizabeth Woodrum
Publisher
: Elizabeth Woodrum
Pages
: 70
Language
: English
Format
: Paperback & eBook
Maisy Sawyer is not your average fourth grade student. She is a detective with a special skill for solving mysteries. She loves black and white mystery movies, cherry lollipops, and her dog, Reesie. When a thief known as The Black Boot steals the school's mascots and her lollipops, Maisy sets out to solve the case. Can she help return the mice to their home in the science lab? Will she ever see her beloved lollipops again? Find out in the first book in The Maisy Files series.
Visit the book trailer at
http://videodemo.co/JP2cf9mjLj/
.
Praise for Maisy and the Missing Mice:
"This is an incredibly kid-friendly story that makes a great introduction to the genre of mystery for newly independent readers. It's a quick page-turning read that encourages kids to think outside of the box."
– The Children's Book Review

Discuss this book in our PUYB Virtual Book Club at Goodreads by clicking HERE.
ABOUT ELIZABETH WOODRUM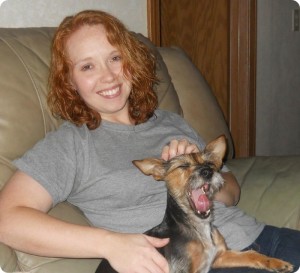 Elizabeth Woodrum is a full time elementary teacher in Ohio. She began writing as early as when she was in elementary school, but more recently began writing material for use in her classroom. From that writing, grew the desire to write books for the general population of children and adults alike. The Maisy Files, a children's series, is the first series that she has published. The series currently has one book,
Maisy and the Missing Mice
. Elizabeth plans to add more books to the series, and would also like to publish books for adults in the future.
As a reader, Elizabeth prefers the fantasy genre, but she enjoys realistic fiction as well. Some of her favorite authors include JK Rowling, Stephenie Meyer, Rick Riordan, Veronica Roth, Suzanne Collins, and Nicholas Sparks.
Originally from Indiana, Elizabeth currently resides near Dayton, Ohio with her two pets: a cat named Butterscotch and a dog named Reese Cup
You can view more about Elizabeth Woodrum at
www.elizabethwoodrum.com
.
Connect & Socialize with Elizabeth!
TWITTER * FACEBOOK * GOODREADs
My Review:
I read this book or helped my 8 year old. He seemed to really enjoy, even though she is a girl, this story. He giggled over "black boot", and interesting descriptions.
The story is geared for his age, and he wished there was more when he had finished the book. He giggled over her obsession with the lolly pops, and thought the thief was quite smart to steal her prized collection.
He wondered why the thief would want someone else tooth....yuck!! When we got to the answers we was happy about the outcome!! Good job Maisy!!
He is looking forward to the next book in this series!!

I received this book through Pump Up Your Book Virtual Book Tours, and was not required to give a positive review.